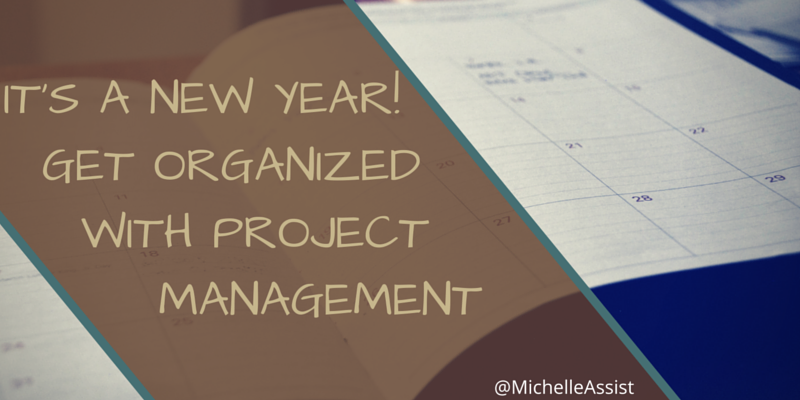 What projects are you working on this year? What are your goals?
Writing a new novel?
Submitting articles to magazines?
Searching for an agent / cover design artist / editor?
Submitting a manuscript to publishers?
Scheduling book signing appearances?
Opening a business?
Starting a meetup group?
I'll tell you what, planning out your goals may feel awesome at first. Look at what you want to accomplish! How awesome! Oh, how you'll feel when you've done it all!
How do you keep that level of excitement and motivation and keep at bay discouragement and overwhelmedness? (Overwhelmedness may not be a word – my sources are unsure – but it should be!)
Choose a Project and Task Management System
You may think your business isn't big enough or your projects aren't complex enough to require a Project Management (PM) system. I beg to differ. What you are trying to accomplish is significant, and there is going to be too much to remember to keep track of it all in your head.
Yes, if you work better with pen and paper, by all means, use the system that works for you. Get a big calendar and a day planner, and get your projects and tasks written in appropriately. I actually love using a physical day planner, and I was doing it pretty regularly a couple years ago, but I'm more efficient, I've found, when I'm using awesome technology to help me get organized. That's me. And, if that's you, I hope you'll take advantage of the options available to you to get organized. Many of the good ones are inexpensive or even free, so there's really no reason not to.
1. Paymo
My favorite project manager plus time tracker is Paymo (affiliate link). It does exactly what I need right now in this stage of my business, and it's only $5 a month (per user). I recommend this tool to anyone who does a significant amount of hourly billing. While it is awesome all around, Paymo really shines with the time tracking and reporting and collaborating with a team that needs to stay within budgeted time per project. I like to use it in conjunction with a separate to-do list (Remember the Milk is my top choice) to keep track of to-do items and due dates.
Paymo's dashboard shows you things like your top clients, billable vs unbillable time, open projects, and upcoming project milestones.
(Click the images to view the full-size screenshots.)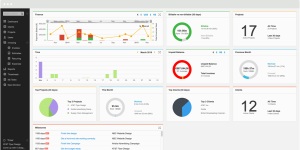 Use the desktop app to easily track time according to project and task.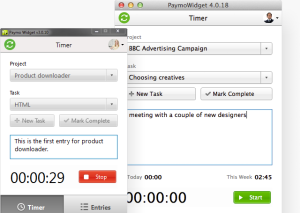 Project overview will show time worked each day and time worked against the total budgeted hours.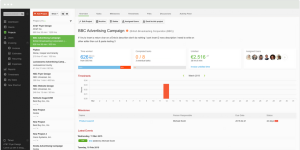 2. Wrike
For writers, though, and for executives and medium-to-large business owners, I recommend my other favorite, which is Wrike (affiliate link). Similar to Asana, but in my opinion superior, Wrike can also sync with Toggl for some basic, free time tracking (ask me how to do this), or it can be upgraded to the paid version for $49 a month to have access to the more advanced time tracking and Gnatt chart features. Where Wrike really shines, though, is keeping track of projects and the steps needed to complete them.
The default "My Work" screen shows you exactly what is due today, this week, and beyond across all of your projects.
Tasks can be edited by multiple team members at the same time.
Set up folders for individual clients or for departments (groups of tasks like "marketing").
How to Use Project Management Software
In the end, whether you're using Paymo, Wrike, Asana, Teamwork, or some other app, the way you use a PM tool is essentially the same. It comes down to setting up your clients and projects, setting up your team, and assigning tasks and due dates.
Step One: Set Up
Most PM tools use Projects and Tasks for the majority of the organization process. Some tools, like Paymo, also include Clients (so Clients -> Projects -> Tasks). If your tool includes clients, just copy in your information for each client. Done!
If you do work with clients, you'll probably have a project for each client. If you don't work with clients, essentially you are your client, and all of your projects will be related to your business and what you're doing. You could start your project list with basics like Website, Social Media, Marketing, Admin, Finance, Novel.
Step Two: Collaborate
Usually you can invite team members to collaborate just within specific projects. That way, your designer/illustrator will only have access to relevant tasks, your editor will only see your writing notes, and your virtual assistant can get an overview of whatever you need help managing. Perhaps you'll even invite in your bookkeeper, your agent, or your spouse. The sweet thing about PM technology is the ability to easily collaborate and be on the same page with multiple people at the same time!
Step Three: Tasks and Due Dates
This is where you start getting into the thick of it: setting up your tasks, deadlines, and milestones to make sure your projects are happening. No more keeping track of and juggling 30 tasks for 10 different projects at once, trying to remember what has to happen before the next big step and who needs to be in on it.
Name your task, write in a description if needed, attach relevant files and images, and choose a due date. I suggest choosing a deadline that is NOT the latest possible date. If you absolutely have to have something done by the end of the month, try to finish it a week in advance. If you need it by Friday, make your due date Wednesday or Thursday. Hit your deadlines, and encourage your team to hit their deadlines, but, if something needs to be adjusted or tweaked, or if there is a delay due to sickness or emergency, it won't throw your whole project off kilter.
Tip: Don't use tasks for really big things, like "launch a website," unless you're also able to create smaller sub-tasks within the larger task. (Some tools allow this; others don't.)
I recommend using your Project Management tool as your browser's home page or at least setting it as one of your default tabs that opens right away. (For my work profile in Chrome, my default tabs are Gmail and Paymo.) Stay on track by logging in regularly, checking off completed items, and keeping up with upcoming tasks that need to be accomplished!
If you enjoyed this post or know someone who needs this information, please like, comment, and share using the links below!